See what our happy customers have to say about Organic Hair Stronger Serum Roller!
"I love this stuff. A little over a week now and it's getting my baby hairs to grow! And it smells great! You also get a cool refreshing feeling on your scalp after putting it in." - Jane Courtney
"This is the first time I'm using this kind of serum & I'm loving it. I massage it into the scalp after a shower & my hair doesn't feel greasy at all. After using it for a week I noticed that my hair has more body & less hair fall. Highly recommend this product." - Bria Nazia
What is Hair Loss?
Hair loss can affect just your scalp or your entire body, and it can be temporary or permanent. It can be the result of heredity, hormonal changes, medical conditions or a normal part of aging.
People typically lose 50 to 100 hairs a day. This usually isn't noticeable because new hair is growing in at the same time. Hair loss occurs when new hair doesn't replace the hair that has fallen out so it is important to keep the scalp healthy for hair growth.
You don't need to spend thousands of dollar to make your hair healthy!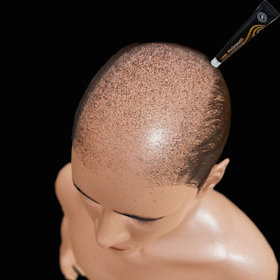 Naturally regrow thicker, fuller hair in with our Organic Hair Stronger Serum Roller!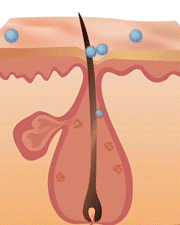 Designed to treat hair thinning, bald spots and repair brittle hair, the plant-based formula penetrates deep into scalp to stimulate blood circulation and growth of hair follicles. Regular use visibly increases hair density up to 87%!
Transmitting essential nutrition while massaging your scalp to damaged hair follicles, strengthening dry, brittle, thin hair with quick visible results.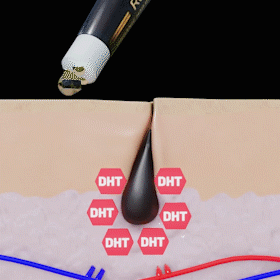 This organic hair serum adopts a massage roller design, which allows the scalp and hair roots to absorb the essence faster and more fully, and the effect can be obtained quickly. Hair is thicker, healthier, stronger, and shiny.
Enriched with hair-loving ingredients with no chemicals, it retards hair loss while repairing damaged follicles, bald spots and thinning hair for fuller, thicker volume!
Coconut oil could help you grow your hair longer by: moisturizing your hair and reducing breakage. This can also help restoring hair quality from high porosity to low porosity, in order to reduce frizzy hair fragile hair.
Ginseng increases the dermal cells on the scalp which, in turn, strengthens the follicles and roots of the hair. Once it penetrates deep inside our skin it not only encourages the new growth of strands but also prevents hair thinning and breakage.
Polygonum Multiflorum extract promoted hair growth by inducing anagen phase. Increase in the number and the size of hair follicles
Angelica Root is enriched with Vitamin E that helps in stimulating the circulation of oxygen in the scalp which is essential for the growth of hair.

This makes Organic Hair Stronger Serum Roller special!

Activate Regrowth of Hair Follicles
Visibly Fuller, Thicker Volume
Repair Thin, Brittle Hair
Prevent Hair Loss
Restore Hair Shine
Organic & Natural Extracts
Here are some of our happy customers review:
"I'm fascinated by how simple yet effective this product is. I can feel the points when I test it and I'm looking to rejuvenate, The roller does it a good job of working the product in and was an unexpected value. Very satisfied." - Ritchie Scott
"Lost a lot of hair mostly on top. Been using this product for a whole month now and daily I could see the results. Hair starts to grow little by little as you can see in the picture. Thank you for this wonderful product!" - Irina  Rioja
Non-greasy and easy to use, try yours to grow a fuller crown effortlessly.
Shake before using the serum.
Gently squeeze to release the liquid.
Massage your scalp gently using the roller (2-3 minutes until penetrated).
Apply twice a day (morning and evening).

Specification:
Net Weight: 20ml
Package Included:
1 x Organic Hair Stronger Serum Roller