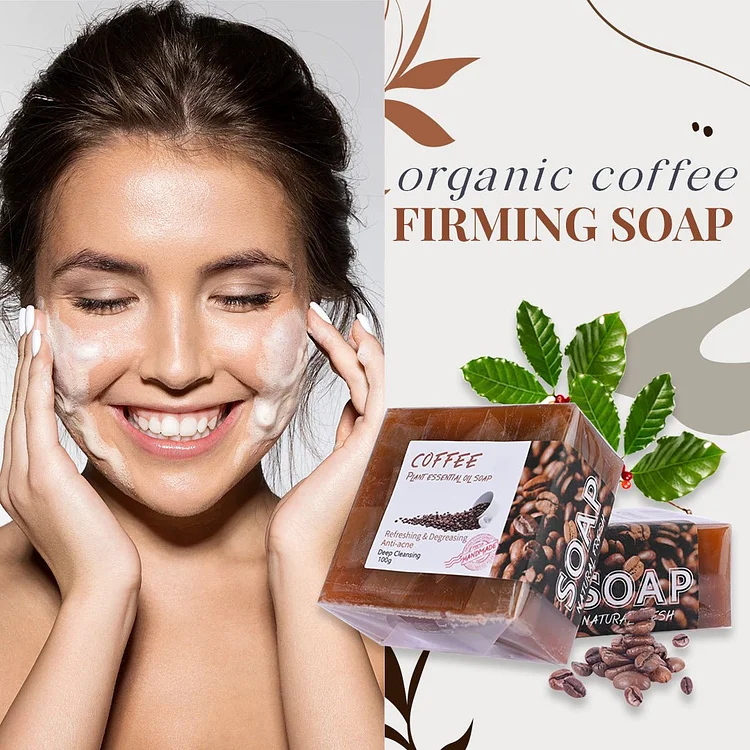 The Perfect Way to Get Your Daily Dose of Caffeine and Exfoliation!!

It's a big, scary place out there, and your skin is under attack every day. It's hard to feel like you can fight back, but we're here to tell you: You can! Don't get left behind in the race for the best skin of your life. We've got the formula for you. 

You don't have to sit by while the world takes its toll on your body!  And Organic Coffee Firming Soap is the key. With this natural , vegan-friendly soap made with ingredients that are kind to your skin and the planet, you can firm, tighten, and exfoliate your way to looking younger than ever before.  Feel clean and refreshed all over again—not just on the surface but deep down inside too!
What are you waiting for?  Treat yourself to a little luxury today. You deserve it!
Find out Our Happy Customers' Topnotch Remarks Using Organic Coffee Firming Soap
"  When I'm at the end of my rope, I can always count on Organic Coffee Firming Soap to give me a boost in the morning. This soap is my go-to when I need to feel fresh, clean, and energized for that important meeting with my boss or client. It's like a little pick-me-up on a bar—and it smells delicious! I've tried so many different kinds of soaps over the years, but this one is by far my favorite. It has great ingredients and doesn't leave me feeling dry or itchy after use. I love how smooth it leaves my skin feeling and how well it works at removing makeup—even waterproof mascara! I would recommend this product to anyone looking for an effective soap with an awesome scent that will leave their skin feeling clean without drying out their skin or causing any allergic reactions like other brands do sometimes do even though they claim they're organic too. - Kate., 38, Michigan - 

" This organic coffee firming soap is the best thing that has happened to me in a long time. I used to feel like I was aging at a faster rate than everyone else around me, but ever since I started using this organic coffee firming soap, my skin looks younger and more radiant than ever. I am so happy with this product! - Catherine., 28, Toronto - 
What Makes Organic Coffee Firming Soap An Effective Solution for Aging Skin?



Skin is the first body part to show the signs of age. Healthy age-related skin changes are inevitable and include thinning, sagging, wrinkling and the appearance of age spots, broken blood vessels and areas of dryness. Unhealthy skin changes, such as skin cancer, are also more common as we age and are usually made worse by exposure to the sun.
Many people would like their skin to look as young as possible. Healthy lifestyle choices and good skin care can help you to minimize the signs of both healthy and unhealthy aging.
There are many types of soaps and beauty products out there that are made with a specific purpose in mind. Organic Coffee Firming Soap  is a gentle, all-natural cleanser that effectively removes dirt and oil without drying out the skin. It contains organic coffee extract, which has been shown to help tighten and firm the skin while it exfoliates, revealing new cells and a more youthful appearance. 
What are The Ingredients and How Do They Work?

Caffeine

- the natural caffeine in coffee soap is safe for any skin type and helps with skin issues like cellulite, acne, dark spots, wrinkles, and fine lines. It also helps to balance out the oils on your skin, which works to keep it hydrated. Studies have shown that adding caffeine to skin products over a long time can

increase elasticity

in the skin's surface, which helps it bounce back from damage,

improve appearance, and retain moisture

. In addition to this, caffeine also has a soothing effect on the skin which helps with conditions like psoriasis and eczema offering smooth skin. 
Shea Butter

- is a natural ingredient that has been used for centuries to

moisturize and protect skin.

It's rich in

fatty acids,

which help it retain moisture and lock it into the skin to leave you feeling soft and smooth. Shea butter also contains

vitamins A and E,

which are antioxidants that help prevent damage from free radicals. This makes it a great choice for anyone who has sensitive skin or is looking for an all-natural ingredient that will keep your skin looking young.

Excellent Benefits of Organic Coffee Firming Soap
Increases blood circulation

Reduces the appearance of ftas and cellulite

Improve skin's elasticity

Helps to tighten pores and make the skin firm.

Provides deep hydration and nourishment

Protect the skin from harmful free radicals and environmental damage, while also reducing inflammation

Improves the overall condition of the skin

Restore the moisture balance in the skin

Organically formulated

Promotes younger looking  and healthier skin

Prevents the signs of skin aging

Widely Usable

Suitable for all skin types



HOW TO USE
Wash your face and body  with clean water

Wet the soap with water until it becomes a thin, runny consistency.
Rub the bar of coffee soap between your hands to create lather, and then apply to your   face and the rest of your body.

Rinse thoroughly!

Use this soap twice daily for better results.
Specifications
Net Weight: 100 grams

Type: soap

Shelf Life: 3 years

Ingredients: coffee, glycerin, shea butter
Product Includes
1 x Organic Coffee Firming Soap