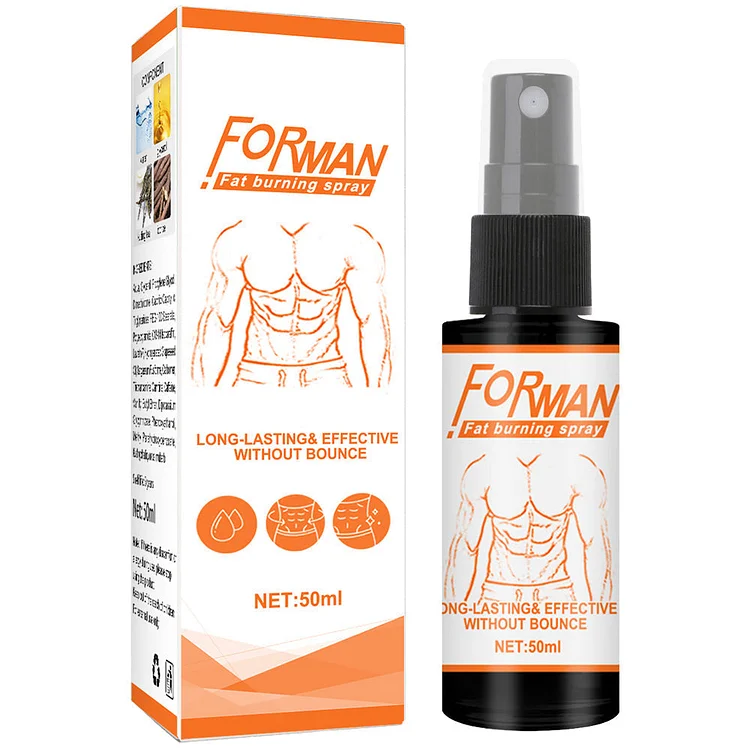 Before Introducing Our New Product, Let's See What Our Customers Have Said About It:
"This spray is such a game changer for me! I had difficulties making my abs show and make my muscles more defined, but this spray made it all happen fast and easy! Also, I really felt like I was burning more fat than I ever did before using it! Great product!" - Jacob Milner - Boston, Massachusetts 
"Because of this spray I finally reached my goal weight! It helped me lose 30 pounds in just 7 weeks! My abs finally showed and looked well defined. I can say that it really helped in burning my belly fat and making my muscles more defined and firm. Five Stars!" - Trent Cahill - Phoenix, Arizona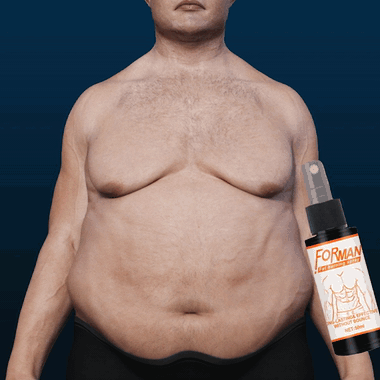 Where Do Men Tend To Store The Most Fat?

It's a well known fact that men and women tend to store fat in different areas. For men, fat usually stores in their visceral or abdominal region. And that fat buildup in those areas of the body makes it more difficult for men to attain visible and defined abs. It also puts men at risk obesity.
ForMan Six Pack Firming Spray Helps Men Burn Fat and Stimulate Abdominal Muscle Growth
For anyone trying to lose weight and get fit, the ForMan Six Pack Firming Spray is a product worth considering. Our product can help you perform better and last longer in the gym or with any workout program or exercise. It will also help speed up your metabolism while suppressing your appetite, which will help you burn more calories therefore burning more fat and losing weight. Along with its key ingredients packed with weight loss benefits, it's the perfect solution for anyone trying to lose weight!
3 Key Ingredients In Our Firming Spray's Formulation
Licorice - A medicinal plant, it was able to reduce body fat mass and to suppress aldosterone, without any change in BMI. Plus, licorice can reduce fat by inhibiting 11β-hydroxysteroid dehydrogenase Type 1 at the level of fat cells.
Kuding Tea - is a detoxifier, it helps protect the cardiovascular system by lowering blood pressure levels as well as lipid levels in the bloodstream, plus, it accelerates blood circulation and reduces blood cholesterol.

Glycerol - A natural and simple compound that has specific performance enhancing properties that help you perform better when working out. Studies have shown that it improves hydration more than sports drinks which helps you workout more effectively for longer.
Standout Features Of ForMan Six Packs Firming Spray

Promotes Weight Loss
Aids in Firming Up Abdominal Muscles
Burns Away Belly Fat
Boosts Calorie Burn
Accelerates Metabolism
Helps You Perform Workouts and Exercises Better
Increases Sweating For Faster Results
Tones Skin and Abs
Stimulates Good Circulation
Brandon Whittaker, a 28 year old man from Houston, Texas, shared  his amazing results using ForMan Six Pack Firming Spray
Thanks to this firming spray, I was able to get to my fitness goals. Here's how using the ForMan Six Pack Firming Spray helped me do just that:
"After the first 2 weeks of using the firming spray, there was already a significant difference in my physical appearance. My abs were gradually starting to show, but there was still a long way to go. I decided to continue using it because I lost 12lbs already in such a short time, and I felt confident I can lose even more."
"After just 8 weeks, I lost over a total of 32lbs. This product works like a miracle, I finally have visible and well defined abs. This spray really helped me burn through calories and shed my fat effectively in such a short amount of time. I highly recommend it to anyone trying to lose weight."

How To Use
Prepare your abdomen and make sure it's clean
Spray the firming spray onto your abdomen
Then spread it well and massage it onto the abdomen
With continued usage, obvious results will show in no time
What's Included

1x 50ml Bottle ForMan Six Pack Firming Spray 
Ingredients: Glycerol, Kuding Tea, Licorice Root, Water