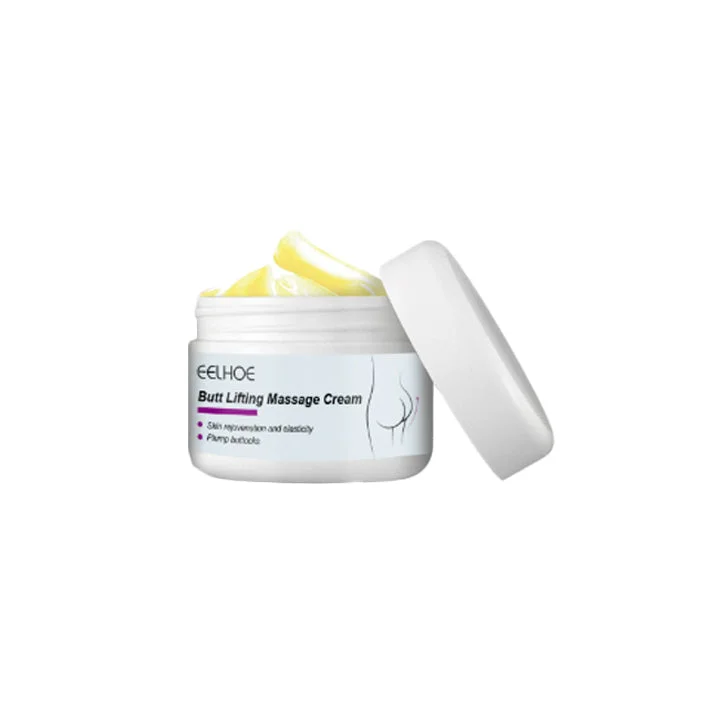 Let's take a look at what our happy and satisfied customers are saying:
"I was actually pretty nervous to try it, I thought it would be a waste of money but tbh It has been about a month, I used it every other day after I shower. I have seen really good results! I'm so happy with the product. A big tip is using it right after you shower since your pores tend to open up therefore the cream really does get absorbed. I've tried it where it's not after I shower and in my opinion I feel like it doesn't work because I don't get the heat sensation after I put it on just like when I do it right after I shower. I do recommend doing some squats right after putting it on. It seems like it helps out even more, they can be 50 or 100 squats. Also the heat sensation sometimes does tend to be too much of a burn so for some people it could be uncomfortable, there has been times were it has been for me but I know that it's because it's working so I suck it up lol"
Liza Kemp, 27, Elmhurst, Illinois
"I LOVE LOVE LOVE this product and plan on continuing to purchase it. I was needing something to help me build my hip dips up and came across this product when I searched for hip dips. I took the time to read the previous customers' reviews and read plenty of good things. I then decided to try it for myself and must say I do not regret but am HAPPY I gave this product a chance. I apply once after getting out of the shower at the top of the day and again before bedtime. I have seen some great results for myself. I hardly work out and do not diet so my results may have progressed at a slower rate but again I have noticed a positive difference and will be buying this product again and again."
Rachel Ann Madison, 32, Cherokee, Iowa

How does Butt Massage work?
Your buttocks are a combination of fat and muscle. The butt's gluteal muscles, collectively among the largest in the body, are necessary for stability, movement, and posture. In short, they're very important.
A butt massage is meant to stretch and push the glute muscles. This can boost circulation, improve range of motion, and increase muscle stability.
Butt Massage Benefits:
better range of movement in your lower half

pain relief

increased circulation

faster muscle recovery

fun and sensual activity for couples
 2 Key Natural Ingredients For Butt Lifting:
1. Ginger
Ginger can give you glowing skin and can really help you get the skin of your dreams. It not only gives you healthy and glowing skin, but can also tighten it and fight the various signs of aging. In addition to its detoxifying and invigorating qualities, ginger is also known to reduce cellulite. Ginger has de-puffing properties which help minimize the appearance of dimpling. Perfect for a firmer and more elastic buttocks texture.
2. Angelica Sinensis
It has an effect on preventing abnormal epidermal proliferation. It contains anti-inflammatory properties which enriches the blood and modulates the immune system. In addition, it has been known for improving the quality and texture of skin by circulating blood into the skin surface.
Why did we create Dream Booty Massage Cream?
This Dream Booty Massage Cream is easy and safely formulated to give your buttocks a hassle free and easy to use lifting cream. It is a hundred percent natural product extracted from plants and is very effective.
It effectively lifts flabby and saggy skin from your behind without surgical treatments in the most affordable way. It also penetrates deeply into your skin and helps your buttocks regain elasticity and fullness with consistent use which increases the size of it
What makes the Dream Booty Massage Cream effective?
Plumps and contours buttocks

Stimulates butt muscles

Eliminates Saggy hips

Absolute butt and hip booster

Ameliorate skin's elasticity

Anti-cellulite and anti-wrinkle

Non-invasive

Fast effective results
Do your saggy buttocks worry you?
Take a closer look at Kristine's buttocks transformation using the Dream Booty Massage Cream and learn how she was able to achieve a plumper and firmer booty shape:
Week 1
I am quite surprised because I have been only using this for a week now and I saw a huge difference with how moisturized the skin on my bottom has become! I didn't realize it was that dry! No wonder it was itchy and aching all the time. I apply this everytime I take a hot shower and massage it onto my skin. It really gives me a rehydrated feeling.

Week 8
I can see a significant life in my butt! It used to be a bit further down but now I can see how it's shaping nicely! My backside used to be dry but now that's changing. It doesn't feel as dry as before and the itchiness is all gone now! It is also firmer to the touch and my husband had noticed the lift that this cream gave in my butt. two months of use and I am almost feeling very sexy already.
Week 12
I love how I look! I'm so close to achieving that plumpness look I've always wanted to have! The lift of my bottom gives it so much accentuation when I wear skirts and dresses! Super satisfied! I have never been this curvaceous before and I must say that the skin texture of my glutes is awesome. I already recommended it to my friends and family.
Kristine Conway, 34, Wichita, Kansas 
How To Use
Thoroughly wash and dry your bottocks and thighs.

Apply an ample amount of cream onto your hand.

Massage the cream upward from your high  to your buttocks ten times. 

After that, massage the cream downwards ten times. 

Grab your thighs, press the skin, and pull it upwards to prevent skin sagging.

Use regularly for fast results
Specifications:
Ingredients: Ginger, 

Angelica Sinensis, Panax Ginseng, Chamomile
Package includes:
Dream Booty Massage Cream 

x 1
Product Inclusion:
For each pieces of our product purchased, we donate a portion of our profit to support the Cruelty Free International organization, which helps to promote the protection of animals and end animal cruelty around the globe.  By purchasing our product, you are supporting our cause to provide a more animal-friendly beauty culture. Don't hesitate to contribute to corporate your passion for beauty and animal today.